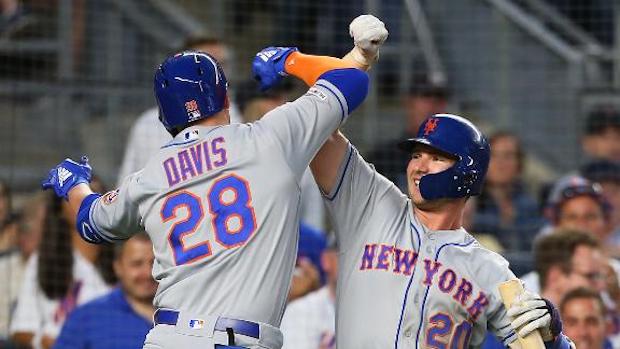 The Mets and Yankees split their doubleheader in the Bronx on Tuesday in the first meeting of the 2019  Subway Series.  The Yankees took game one despite falling behind early, topping the Mets 12-5. Gio Urshela and Luke Voit roughed up Zack Wheeler.  The bounced back in the night cap though, with Pete Alonso, Jeff McNeil and JD Davis leading the way at the plate behind another solid outing from Jason Vargas.
The NBA Finals resumes on Thursday with Game 6 taking place at "The Bay" as the Warriors host the Raptors, hoping to force Game 7.  The Warriors will be without Kevin Durant after going down with an Achilles injury that will sideline him for 8 months.
If the Raptors are able to win Game 7, this will be their first championship in franchise history.  Game 6 tips off Thursday at 9PM.
Tonight will be Game 7 of the Stanley Cup Finals in Boston as the St. Louis Blue and Boston Bruins face off for The Cup.  After the Bruins faced with elimination in St Louis on Sunday, beat the Blues 5 to 1 to force a Game 7 on their home ice, they will take on a Blues team that has only lost 3 games on the road during the playoffs.
In Pebble Beach, California, 2-time defending U.S. Open champion Brooks Koepka will try to be the first  player to win 3 consecutive U.S. Opens since 1905 when Willie Anderson accomplished the feat. All eyes still seem to be on Tiger Woods who returns to Pebble Beach for the first time since 2012. We can all be reminded of when Tiger shot a mind blowing 24 under par U.S. Open victory in 2000, but since then he has not fared well at Pebble Beach. The U.S. Open will get under way Thursday at 9:45AM.
In soccer, it took just 12 minutes for Alex Morgan and the U.S. Women to score their first goal of the 2019 World Cup and there was no turning back after they found the net early in the game versus Thailand. Morgan would go on to net 4 more goals and rolled to an easy 13 to 0 victory over Thailand who was no match for the juggernaut that is the U.S.A. The U.S.A. would get goals from Samantha Mewis (2), Lindsey Horan (1), Megan Rapinoe (1), Rose Lavelle (3), Mallory Pugh (1), and Carli Lloyd to breeze by Thailand. The U.S. Women will play again on Sunday at noon versus Chile who comes off of a 2 to 0 loss to Sweden on Tuesday.